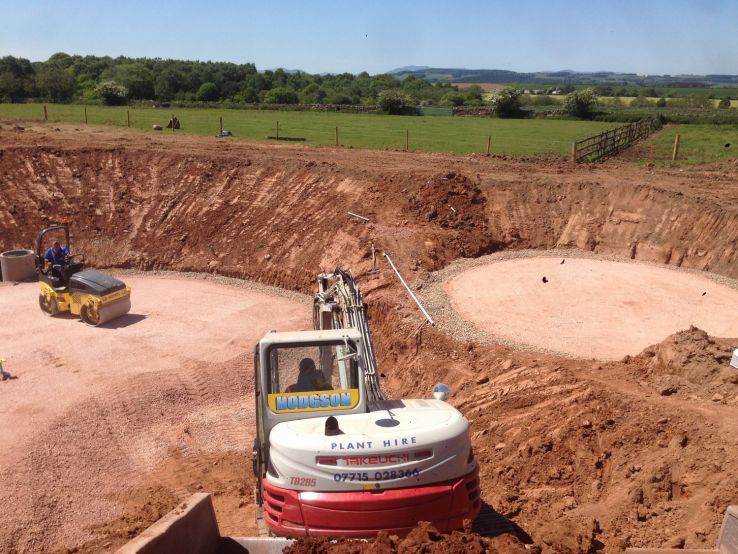 T A Hodgson Limited
Oak Tree Woodhead Farm
Edenhall
Penrith
Cumbria
CA11 8TD
07715 028 366
Groundworks Contractor in Cumbria
Are you about to start a building project? Do you need the ground prepared so you can start? There are few things more frustrating than being ready to start a project, only to be stuck twiddling your thumbs until the ground's ready. For that reason, it's important to find a good groundworks contractor so you can get started as soon as possible.
Need groundworks carried out for your home, farm or business? TA Hodgson is a leading groundworks company in Penrith and surrounding Cumbria. We'll have your site ready to work on in no time. Get in touch today for a free quote. Or give us a call on 07715 028 366 to get one now.
Groundworks is the process through which land is made ready for construction. It's sometimes called earthworks and varies from project to project. By making sure you use the right groundworks contractors, you ensure your project goes well from the very start. Any land you plan to build on, whether it be domestic, commercial or agricultural, needs to be cleared first. We'll do this for you. We'll also help ensure any land you plan to build on has proper drainage.
If you're unsure of how to prepare your land for your upcoming project, have no fear. We're groundworks experts, with our help you can rest assured you'll have everything in place to make your project reality.
We carry out all aspects of groundworks, including:
• Foundations
• Concreting
• Hard landscaping
• Site clearance
• Demolition
• Drainage
• Septic tanks
• Soakaways
At TA Hodgson we have all the necessary machinery to make the preliminary groundworks for your project a breeze. We have plenty of experience across construction and agriculture. In the past we've installed sewer drainage, concrete floors and even prepared land for anaerobic digestors. We're also able to cover any landscaping project and ready your garden for a brand new patio.
Whether you want groundworks for construction, landscaping or farming, TA Hodgson is your first port of call. Get in touch today to start getting your project off the ground. Give us a call on 07715 028 366 for a faster response.